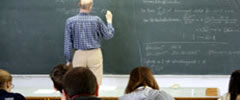 We have been making and selling customized Course Notes for both University of Florida and Sante Fe College since the day we opened our doors in 1981. The great thing about customizing your textbook is that you can combine current and archived articles, excerpts from different textbooks, original materials, past tests and PowerPont lectures in the order you will be lecturing. If you do not need the entire textbook why would you want your students to pay for a costly textbook? Yes there might be some royalty fees involved but they would be less costly than purchasing several different texts. Clearing copyright for published materials is actually very simple and painless. In 1991 we established a full time copyright office and pioneered computerized permissions. We have a excellent working relationship with hundreds of publishers, both foreign and domestic, to insure a fast and fair response to all copyright permissions request. We are also members of a national copyright clearing house which
allows us to immediately clear a tremendous number and variety of titles. Often these permissions are granted with a royalty required. In these instances we will handle all collections, accounting and all payments with no obligations to the faculty or departments. We provide high speed production and binding of your material within 24 hours of your original works
submission or receipt of approved copyright permissions. With our superior on-site production capabilities we can make sure your students have their materials on time and be prepared for class.
We also have self serve computers for your students to access your "on line" notes. A discount is extended to all course note prints that are printed from our equipment. Your students will be able to print (1 sided or 2 sided) and have the option of 3 hole, coil or spiral binding while they wait any time of day or night. With your permission, we can access and print your on line notes for your students. This simple way would save time and money and will also give students the opportunity to enter for
our educational grant. If you choose to offer your Course Notes through us we offer several money saving opportunities for
you, your department and your students.
FREE Faculty copies for yourself and teaching assistants
Discounted service coupons included in all course packets
Free Pick Up & Delivery of materials
$750.00 (in cash & gift certificate) Educational Grant Opportunity for Student & Department
Target Copy can help you keep your classes organized by creating the course packs you need for your students.  We take care of everything, from clearing the copyright to binding the coursepacks in an organized fashion.
Fill out this form to get started with course packs:
And as you get ready for your own publications, Target Copy can publish for you through our publishing company, Bookends Press.
Here are some resources for Fair Use and  the importance of copyright clearance.