Want To Work Here?
This is a great place to work! We work with loyal customers who appreciate our ability to help them in their times of need. Whatever your particular talent, we are always looking for that next great contributor. You see, it takes all kinds to build a well-rounded team. We've got people with technical skills, customer service expertise, those who love to manage and, of course, some who combine almost all of these. Target Copy's team includes a great number of long-term, dedicated employee owners.
What benefits do these owners earn from their work at Target Copy? We're glad you asked. Here's a list of the valuable and much-deserved benefits that you can enjoy while working here.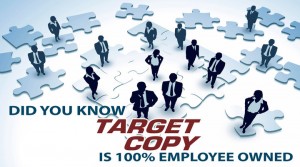 Benefits
401(k) with 50% match and 3% profit sharing
Employee Stock Ownership Plan
Group Health Insurance
Group Dental Insurance
125/Cafeteria Plan
Paid Holidays and Vacations
Free Life Insurance
In addition to these benefits, you'll also get to work in a high-tech, digital world with great, forward thinking people. Who wouldn't want to work here?