We are passionate about our responsibility to make Target Copy as environmentally friendly as possible. Since 1978, we have taken steps to ensure that our business is conducted with Mother Nature in mind.
All Our Papers Come From Managed Forests
We've Been Recycling Paper and Aluminum Since 1978 and Corregated Cardboard Since 1996
We Make Extensive Use of Fair-Traded Products
Utilizing Soy-Based Inks Since 1996
EnergyStar Rated Printers in All Our Locations
Now Offering Digital Passport Photos, Helping Save Photographic Paper and Chemical Waste From Landfills
Employing Gainesville Regional Utilities Energy Audits to Aid in the Installation of Efficient Lighting and Air Conditioning System Upgrades Since 1993
Our Locations Make Use of Flooring and Lighting Recycled From Other Buildings. In Fact, Even Our Target Copy Sign Was Recycled From Our Former Location
Our Outdated Uniform Shirts Are Donated to Those in Under-Privileged Nations Around the World
Driving Green
In the Fall of 2008, Target Copy's employee owners began a groundbreaking project, creating an all-electric delivery van. Researched, designed and built completely by Target Copy employees, (Ok, so we did send out a few welding projects.) this all-electric van will function as one of our full-time local service vans.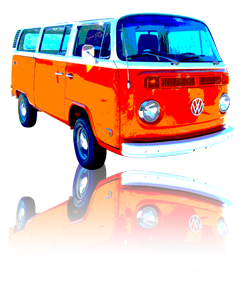 Highlights of the Target Copy all-electric van include:
Produces no harmful emissions
Fully recharges overnight when the demand on our GRU source is less
Capable of carrying two passengers and over 1,000 lbs. of cargo
This vehicle is just another example of how Target Copy continues to look forward and works to reduce our impact on the environment.
Working to Help All of Us,
Target Copy